But first, if you like
NetHack
, you absolutely must try
What Fools These Mortals
.
All I really have today is that there was a passenger on a bus this afternoon who looked rather like Inigo Montoya.
Well, that, and I have this idea for an odd-ish sort of a vampire vignette that I should look into writing at some point, and I have lists of request things that I should really get done sometime, and I have my own ideas for other things to do, and seriously do not even
think
the word 'report' or 'essay' or I will beat you to death with a green pencil.
So don't. Please?
In other news, tonight I artificially aged a tiger photo from the Internargles, partly as a demonstration of film grain and faux sepia toning and such, and partly to see if I could. The original is a stock photo from
here
, and I'm kind of happy with the results, which look a little like this: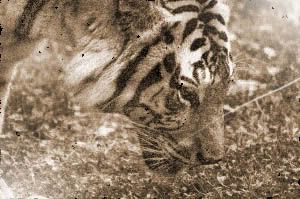 Happily, it's a vastly easier process this way than it is to try to make such a photo look modern.